What is it about?
The Covid-19 outbreak forced health care workers to work under particularly stressful conditions because of the need to wear PPE including protective gowns, gloves, goggles and FFP2 filtering masks.
The question of maintaining the neurocognitive performance of medical personnel has always been a concern for both the handler and the patient.
Two publications published simultaneously this year study the potential impact of PPE on health care workers and give results that are… different, even opposite!
Publications 
Wells et al. Impact of full personal protective equipment on alertness of healthcare workers: a prospective study, BMJ Open Quality 2022;11:e001551. doi:10.1136/ bmjoq-2021-001551
Kienbacher et al. The use of personal protection equipment does not negatively affect paramedics' attention and dexterity: a prospective triple-cross over randomized controlled non-inferiority trial, Scand J Trauma Resusc Emerg Med (2022) 30:2 https://doi.org/10.1186/s13049-021-00990-3
State of the art
Previous studies clearly show that protective clothing and masks can impair the fine motor skills and concentration ability of healthcare workers. Several reasons have been considered for this phenomenon, including increased humidity under the mask, re-breathing of carbon dioxide, and increased respiratory resistance. Body heat removal, impaired vision and " non-technical skills" such as communication may also play a role.
Study by Wells et al. PPE alters alertness levels
Purpose
The paper by Wells et al. supports this by studying the alertness levels of medical staff in an intensive care unit. They investigated whether wearing PPE can have an impact on the ability of healthcare personnel to respond quickly and effectively.
Although ICU caregivers are accustomed to wearing PPE such as aprons and gloves, or even additional equipment such as gowns or surgical masks for operations requiring sterile conditions, the presence of COVID-19 required them to wear full equipment such as FFP2 masks, goggles and/or visors, and headgear even for routine care.
Fifty caregivers, including physicians, nurses, physical therapists, nursing aides, and staff redeployed from other areas of the hospital, voluntarily participated in the study. They were protected by CBRN-type protective clothing, which they do not normally wear in their daily work.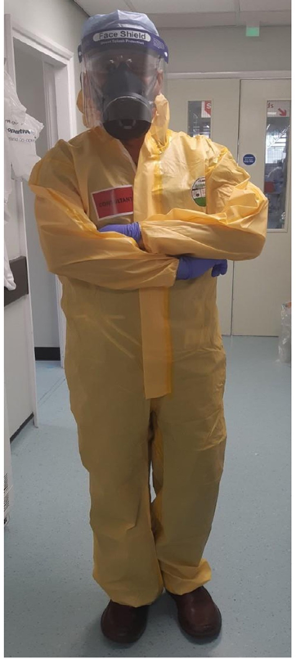 Test methods
A series of two psychomotor tests were used to assess response times and error rates. One set of tests was performed while the subject was not wearing any PPE (control) and another set while still in the suit after having spent at least two hours in it.
The two testing tools used were the "Psychomotor Vigilance Test" (PVT) and the "Serial Seven Test" (SST). The PVT is a chronometric measure of an individual's reaction: he or she is asked to respond to a digital signal on a computer screen by pressing a key. The reaction time of the subject when a red dot appears on the screen is recorded for 5 minutes. The average, minimum, and maximum reaction time and the number of false responses were recorded. For the ESS, participants were asked to subtract 7 from 100 serially. For each subtraction error made, participants were promptly given the correct answer and asked to continue the subtraction procedure starting with the corrected answer. The completion time and number of errors were recorded.
The SST test involves counting backwards from 100 by subtracting 7 (93-86-79-72-65-58-51-44-37-30-23-16-9-2). This test measures the patient's mental state.
Results 
The results can be summarized as follows:
Wearing the PPE induced a significant increase in mean and minimum reaction times as well as in the number of false PVT responses. Subjects also took longer to complete the SST test and made more errors with the PPE on. There was a statistically significant difference in mean PVT reaction time scores with the PPE between subjects tested in the day shift and those tested in the night shift who had more degraded tests.
This study demonstrated a significant reduction in the alertness levels of healthcare workers when wearing PPE.
PPE negatively affected performance on both types of tests, indicating that multiple components of brain function are affected.
According to the authors, this study has some limitations because it does not prove that the negative effect of PPE automatically results in negative occupational outcomes. It is well known that in real life there is a high potential for errors of omission, and near misses. Any adverse event is usually the culmination of a series of events progressing beyond a certain threshold. In practice, most errors are detected in time and acted upon. It would be extremely difficult to prove that a particular event was a direct result of the use of the protective suit. On the other hand, if the potential for errors is reduced, this should lead to an improvement in safety.
Kienbacher study: wearing PPE does not impair attention or fine motor skills of caregivers
 Purpose
To evaluate the influence of PPE with different types of FFP2 masks on two neuropsychological components of EMS personnel during cardiopulmonary resuscitation or CPR.
Method
Teams of paramedics performed three 12-minute CPR scenarios on a mannequin after climbing three flights of stairs with equipment, each under three experimental conditions: for the control scenario, participants wore their standard PPE of EMS garb, safety boots, and examination gloves. For the intervention scenarios, they wore coveralls (non-NRBC), goggles and one of two masks: an FFP2 mask with an exhalation valve, or an FFP2 mask without an exhalation valve. The teams and the intervention sequences were randomized.  We remind here that an FFP2 mask with a valve only protects the wearer and not the environment because the exhaled air goes directly out without filtration into the outside environment (but it is more comfortable!) (Ed. note).
Changes in concentration performance using the "d2" test and dexterity using the "nine-hole peg" test (NHPT) were measured.
            – The d2 attention test is a neuropsychological measure of selective and sustained attention and visual scanning speed. It consists of crossing out the letters "d" accompanied by two lines (hence the name) in the middle of "distractors".
-The nine-hole pin test can be used to assess dexterity. Subjects are asked to remove nine small pins from holes in a board and replace them as quickly as possible using the dominant hand. Time is measured and greater speed indicates better performance.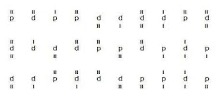 Results :
Forty-eight people participated in the experiment. The results can be summarized as follows: concentration performance was significantly improved after each of the scenarios, attention and dexterity were not degraded when wearing PPE, including FFP2 masks. In a later study, the same authors showed that wearing Covid-19 PPE did not impair the quality of cardiopulmonary resuscitation itself.
Comments
These 2 articles apparently give contradictory results but they do not measure the same thing.
In the first case, the workers were equipped with CBRN PPE, which was also waterproof, and which did not allow them to work in good conditions: heat, humidity, discomfort in movement, noise. After 2 hours of work, fatigue is intense. It is not surprising that the vigilance tests and the mental state of the caregiver were degraded. We have already addressed this problem in one of our blogs by emphasizing the lack of appropriate clothing for caregivers, including at least a filtering suit to evacuate the heat.
In the second case, the uniforms were composed of non-NRBC suits, protective glasses and a FFP2 mask with or without valve. The work they had to perform was a cardiopulmonary resuscitation on dummies. The tests did not measure the same thing either, here, attention and dexterity.
 The results showed that attention improved during the exercise and attention and dexterity remained the same as in the controls. The fact that the experiment was conducted on mannequins and not in a real-life situation did not put the caregivers in the same stressful situations as in a real practice.
Another study examined the impact of PPE on surgeons' performance and found that their skills were significantly reduced [1]. Performing cardiopulmonary massage is not the same job as a surgeon in an operating room. This includes the kneeling position during CPR versus standing or sitting during surgery. In addition, CPR does not require attention to maintaining a sterile environment. Another trial examined the impact of chemical, biological, radiological, and nuclear (CBRN) PPE on routine vascular access and airway management activities. The subjects in the study required more time and attempts to complete their tasks [2].
Conclusions
The management of patients during Covid is not easy for the caregivers because, not only do they have to accomplish tasks that are already difficult in normal times, but they also have to wear PPE against viruses, such as suits, goggles and masks with higher filtration than usual, such as FFP2 masks. Generally speaking, the work is more tiring and their neurocognitive capacities are degraded. The second experiment carried out under more relaxed experimental conditions is, in my opinion, not very significant.
References
1_ Yánez Benítez C, Güemes A, Aranda J, et al. Impact of personal protective equipment on surgical performance during the COVID-19 pandemic. World J Surg. 2020;44(9):2842–7.
2_ Castle N, Owen R, Hann M, Clark S, Reeves D, Gurney I. Impact of chemical, biological, radiation, and nuclear personal protective equipment on the performance of low- and high-dexterity airway and vascular access skills. Resuscitation. 2009;80(11):1290–5.