What is the problem?
How to evacuate a victim contaminated by a chemical in an absolute emergency?
This question can be asked either in a military context when a group of combatants is under fire from conventional weapons and chemical agents (chemical warfare agents or ICTs), or in a civilian context in the case of, for example, a terrorist act with the release of toxic chemicals (such as the Tokyo Sarin gas attack).
Carole Dougnac, Product Manager at Ouvry, has studied the problem well and presented her work in her "Thesis for the University Diploma" Sciences and Technologies Public Health and Social Sciences, Health Risks Radionuclear, Biological, Chemical and Explosives " Option C: Development and evaluation of a contaminated chemical victim extraction bag ".
Literature review
We will summarize here his bibliographical study which is very complete.
1_ Air transport (MEDEVAC medical evacuation). Madec S, Valade É. Air transport of highly contagious patients: principles and means. Medicine and Armed Forces, 2018; 46:399-404.
Describes the difficult case of transporting an EBOLA affected patient: a prototype corresponding to ergonomic requirements, medical-aeronautical constraints and biological safety has been developed: PEGASE (Protection Evolutive Gonflable pour Aéronefs Sanitaires d'Evacuation)
Radio-contaminated casualties wrapped in a double layer of vinyl were transported in aircraft. Fox A, Entine F, Benner P, Bombert Ch, Carfantan C, Travers S, Gagna G. Management of radiocontaminated wounded in external operations: can they be evacuated by air? Medicine and Armed Forces, 2018; 46:389-398.
It is not possible to transport potentially contaminating people such as the injured in Tokyo, for example, in an aircraft without protection, as contaminants can upset the pilot.
2_ Secondary contamination: secondary contamination usually occurs outside the initially contaminated area or after the initial phase and is usually due to victims' clothing or first aid equipment. These victims must be transported by means of a system that prevents secondary contamination. Okumura T, Suzuki K, Fukuda A, Kohama A, Takasu N, Ishimatsu S, Hinohara S. The Tokyo subway sarin attack: disaster management, Part 2: hospital response. Acad Emerg Med, 1998 ;5 :618-624.
3_ In many cases, pre-hospital care required to maintain vital functions is necessary. Then specific means of transport for infected patients are required for transport to the hospital. Martin AJ, Lohse CM, Sztajnkrycer MD.A descriptive analysis of prehospital response by Hazardous material events. Prehospital and disaster medicine, 2015; 30:466-471.
4_ Ambulance transport of contaminated patients was considered by Shin et al. with the lining of the vehicle interior with a polyane sheet. Shin DM. Prevention and decontamination of chemical, biological, radiological, and nuclear contaminants for the emergency medical personnel during ambulance services.  Hanyang Med Rev 2015 ;35 :146-151.
As a result, the transport of a contaminated injured person poses at least 2 problems: he must not be responsible for secondary contamination
The CBRN contaminated victim transport bag
The system that answers these 2 questions could be a bag to wrap the injured person with the following functional requirements:
contain the victim's chemical contamination (liquid and vapor);
reduce contamination inside the bag;
allow emergency medical procedures to be carried out;
reduce logistical and maintenance constraints;
remain in compliance with the regulations and directives in force.
The contaminated victim extraction bag developed at Ouvry (SAS) is made of CBRN waterproof material and contains DECPOL absorbent material to prevent liquid risk while ensuring self-decontamination.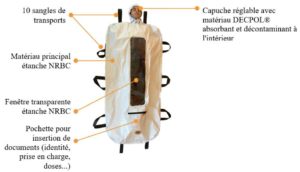 A zipper with a filter media ensures the absorption of vapors present in the bag as well as self-decontamination.
The airways are directly accessible and the system is compatible with the various CBRN masks including NH15 escape hoods.
Cable ducts allow the infusion hoses to pass through while maintaining the tightness of the bag.
The patient undergoes emergency decontamination (undressing, DECPOL…) before being cared for by caregivers who stabilize his vital functions. The infusion tubes can be held during transport by means of cable glands.
Conclusion
The benefits of the transport bag: confines the contaminated victim, helps to reduce the level of liquid and vapor contamination, does not require a consumable (no battery, fan or cartridge…) allows medicalization (airway, intravenous infusion…), compatible with the means of transport (stretcher, cervical collar, helicopter), light and decontaminable.
It therefore has its place in the military context in field operations, for example, and in the civilian context in the context of a CBRN attack where it can be used profitably by the fire brigade to transport the victim in absolute emergency to the hospital with an emergency service equipped with a decontamination chain at the entrance.
It can also be found in nuclear power plants and factories handling chemicals to transport victims of a contaminated accident building to the uncontaminated infirmary, before being taken care of by the fire brigade.
Congratulations to Carole for this very nice work !