In our blog dated August 30, 2016, we already looked at firefighters' health and in particular the long-term impact of toxic substances such as polycyclic aromatics (PAHs), PCBs, bisphenol A, benzenes and heavy oils, VOCs and other oxygenated compounds causing cancers of the rectum, anus, prostate and liver, melanoma, multiple myeloma and other acute myeloid leukaemias.
Chemical and Particulate Exposure
Richard Amnotte's excellent presentation at the first conference of the Swimming Zone (Wépion – Namur) on February 22, 2018 (follow this link) gives a very documented assessment of exposure to smoke and describes an alarming situation among firefighters. They are regularly exposed to toxic compounds dangerous to health (carbon monoxide, phosgene, acrolein, formaldehyde…), proven carcinogenic molecules (soot, benzene, formaldehyde, dioxins), probable carcinogens (creosote, wood smoke) and possible carcinogens (PAH). To this are added fine particles: large particles noted PM10, have an average diameter between 2.5 and 10 microns, fine particles PM2.5 have a diameter between 1 and 2.5 microns, very fine particles PM1 have an average diameter less than 1 micron and are abundantly found in vegetation fumes.
Particles larger than 10 microns in diameter are coughed out or ingested, PM10 enters the bronchi, PM2.5 reaches the pulmonary alveoli and M1 enters the blood at the pulmonary alveoli. All these particles are at the origin of lung diseases (allergies, asthma attacks…), cardiovascular diseases and even cancers.
The "forest fire" hood
Firefighters and foresters fighting forest fires and controlling prescribed burns are not equipped with respiratory PPE that is too heavy to handle in a difficult environment. This video from France Télévision report summarizes the respiratory protection of firefighters during forest fires (see this link). On the other hand, they are equipped with a "forest fire" hood designed to offer thermal protection against the risks of vegetation fires. It is composed of an aramid and imide fire complex. An opening at eye level allows the tissue to be held on the face when wearing safety glasses. The hood covers the neck and shoulders. At the level of the mouth, the fabric is in double thickness. To determine if this textile placed in front of the mouth and nose is able to stop the harmful effects of toxic products and particles contained in plant smoke, the CNRACL (Caisse Nationale de Retraites des Agents des Collectivités Locales) has just carried out a series of laboratory tests (in vitro) and under operational conditions (in situ), the results of which have just been published "Evaluation of the filtration efficiency of the forest fire hood against smoke and fine particles" 2017-2018.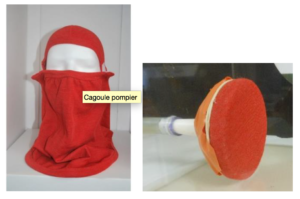 Forest fire hood and experimental aspiration assembly
Laboratory experiments and results
The in vitro experimental device was designed to measure the quantities of acrolein, carbon monoxide and formaldehyde retained by the double textile layer by means of a suction system (11 L/min). The plants burned were pine needles, Kermes oak, rosemary and herbaceous. The passage of fine particles was also measured. In addition, the measured concentrations of these toxic products far exceeded the toxic doses.
These first measurements showed that the hood does not retain any chemicals, not even fine particles (identical results with or without hood). Only the hood moistened (by sweat or breathing) slightly decreases the penetration of particles without distinction of size.
Further tests were carried out by replacing the hood textile with half dust masks type FFP1, FFP2 and FFP3. The results show that these masks are effective in filtering fine particles from burnt herbs, increasingly effective from FFP1 to FFP3. These experiments were carried out for demonstration purposes because the composition of these polymer masks does not allow sufficient thermal resistance necessary for fire brigade work. On the other hand, the vast majority of chemicals are not retained except for certain ester compounds.
In-situ measurements
Experiments were carried out on prescribed burning with the SDISS du Gard. Measurements were made in the presence of low smoke, moderate smoke and dense smoke. The conclusions are the same as those of the in vitro experiments: the hood filters neither particles nor chemical compounds.
Indeed, the fine particles whose diameter is between 10 and 1 μm cross the textile of the hood and are inhaled directly in the lungs, towards the pulmonary alveoli. The hood also lets through the many chemical compounds contained in the fumes and in particular the toxic and irritating compounds, whose effects are dose-dependent.
The FTC hood from Ouvry
The presence of firefighters in forest fires is the same problem as soldiers in contaminated CBRN environments or farmers during application periods. We have developed a CBRN hood filter that protects against CBRN agents in vapour form for 24 hours in contaminated environments, following NATO recommendations. It is manufactured with a highly elastic carbon filter media, highly permeable to air and water vapour, offering optimal comfort. It protects from particles, soot rich in PAH (benzene and others), and harmful gases. While being fireproof it allows an optimal physiological comfort. It is also compatible with different masks.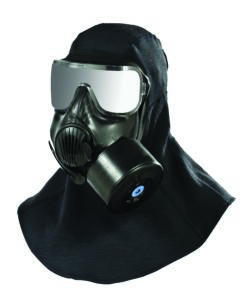 FTC hood
It ensures protection, comfort and durability, we will find the technical sheet by following this link
This CBRN protective hood has been specially developed to interface with the equipment of pilots and EOD specialists (deminers). This technology can thus represent an interesting alternative to be implemented on the "forest fire" hood of the fire brigade, whose total inefficiency on chemicals and particles has just been seen.