By François NR Renaud, scientific adviser
Gloves, whose origin goes back to antiquity, are elements of hand protection; handling (against abrasion), protection against heat or cold (firefighters, metallurgists, welders), protection against chemical or biological products (chemical industry, laboratories), against CBRN threats, against cuts (butchers). They are therefore personal protective equipment (PPE).
As far as we are concerned, we wear gloves to work in the garden (against brambles for example), to tinker (sting, cut…), to do housework, when it is cold (to ski for example) and in all situations where our hands are in danger. In sports we use gloves in baseball, to drive motorcycles or cars, we wear them when riding a bike…without forgetting the goalkeeper's gloves.
But the glove also has other functions: for example, a pair of linen gloves, a symbol of his status, was found in the tomb of Tutankhamun (who died in 1350 B.C.). These gloves had separate fingers and were not in the form of mittens found elsewhere.
 In the Middle Ages, the glove became a symbol of dignity and honor. The pope, bishops and cardinals wore "pontifical gloves" during the celebration of Mass to protect themselves from the defilement of the material world and thus preserve their purity.
A symbol of deference, submission and loyalty, it is customary to disassociate oneself before a superior. And when throwing down your glove means challenging an opponent, the opponent taking it up means that he accepts the fight.
From the 15th century, gloves became fashion accessories and jewelry at the same time. The upper classes of the society look for gloves made of skin (sheepskin, sheepskin, calfskin… ) As for the rest of the population, they wear gloves made with three or five fingers. Inuit gloves are often two inches long so that they can be interchangeable from one hand to the other.
 In the late 1800s, gloves were a symbol of elegance. Men and women proudly wore buttoned silk and velvet gloves with evening wear and suede gloves during the day.
Today, there are still people who maintain the tradition of wearing gloves at funerals, weddings, state functions, formal events and opera.
What about gloves in the medical field?
            History
     They were born in 1889 at the John Hopkins Hospital in Baltimore, USA.
At the time, according to Lister's precepts, medical personnel disinfect their hands with mercury chloride and phenic acid as well as surgical tools in order not to transmit infections. Caroline Hampto, a nurse in the operating room, suffers from severe allergies (dermatitis) to these products and that is why her fiancé William Halsted, who is also a surgeon and department head, asked the "Goodyear Rubber Company" to make rubber gloves to protect his future wife's hands.
Very pleased with her new gloves, Caroline Hampton is promoting them and is being imitated by surgeons and nurses who are starting to wear them. These vulcanized rubber gloves have many advantages because they are not only effective for skin protection, but also reduce infections. Indeed, in 1899, Dr. Bloodgood, who was the first Joan Hopkins surgeon to regularly wear gloves during his operations, found that out of 100 patients operated on for inguinal hernia, only one suffered from infectious complications.
Then it was a French doctor, Henri Chaput (1857-1919), who developed surgical gloves by making them waterproof and autoclavable. These gloves are then reusable.
Little by little, surgical gloves are being used in all operating rooms. Single-use gloves were not generalized until 1975 and today they are unavoidable.
From 1985, with the development of AIDS, the wearing of gloves became widespread and the first allergic reactions to latex appeared through contact dermatitis.
In addition, some fatal cases of allergic reactions in patients undergoing surgery have been reported. Some doctors now use vinyl gloves (polyvinyl chloride, PVC) which is also not free of causing allergies.
     Why wearing surgical gloves?
 In the 16th century, well before the work of Semmelweis (1818-1865) who advocated aseptic hand washing before childbirth in order to avoid postpartum infections, the obstetrician Joseph Jakob von Plenck (1738-1807) already recommended the use of gloves at the time of the birth of children of syphilitic mothers. But this was for a different purpose: the agent of syphilis, Treponema pallidum, is one of the few germs that can pass through intact skin, so that people who delivered syphilitic women caught the disease through their fingers, hence the name "midwife's disease".
     "The cleanliness of a hand is to be dirty," reads some hospital departments.
Indeed, the skin hosts 2 types of microbial flora;
-the resident flora that lives and multiplies on our skin, it is our own and protects us, in particular from possible pathogenic germs that do not find their place to multiply because of the fierce competition of the germs already in place ;
– the transitory flora made up of germs recovered from the environment by contact, the skin of the fingers then playing the role of intermediary between 2 individuals. Seventy to 80% of infections are manuported! This transitory flora is easily eliminated by hand washing.
            For which type of protection?
– protection of patients: gloves that do not contain any transitory flora therefore protect the patient against a possible infection (provided that the gloves are correctly used, we will talk about it again);
– protection of the caregiver: against the risk of infection in case of contact with blood, other biological liquids, the injured skin of a patient, and every time there is a gesture involving an injection, handling of tubes, contaminated cloths etc.
In the case of an accidental injection, for example, the viral load that could be injected into the caregiver is lowered by passing through the glove and the risk of infection is reduced (cases of HIV, HCV (hepatitis C virus), HBV (hepatitis B virus)).
Gloves also protect against chemicals such as chemotherapy products, disinfectants, detergents…
They also protect against physical risks: cuts, prickles, sharp edges?
This is why almost all hospital staff in contact with patients, medical devices, linen and biological products wear gloves depending on the risks.
How to use the gloves?
    Of course, the use of healthcare gloves in the hospital environment follows specific recommendations such as respect of the size according to the hand, hand washing before putting on and after use, removal technique, time of use and disposal. We will not detail them here.
Sterile gloves are responsible for providing bacteriological protection between the patient and the handler (and in both directions). They are indicated in very specific cases such as during surgery or invasive procedures such as the installation of drains or catheterization.
Should gloves be used during the Covid-19 outbreak?
     At the beginning of the epidemic, some stores advised us to wear gloves when making our purchases. In fact, the cashiers even wore them, but was it appropriate?
The message that the virus was present on surfaces prompted us to protect ourselves from it by wearing gloves, such as rubber or disposable gloves. However, using gloves is very complicated! If you know how to put them on, it is much more difficult to remove them because you have to reverse them, which is very difficult to do without contaminating around you or even the inside of the gloves, especially if you want to use it again and put it back in its original position. If you want to reuse it, you must necessarily clean it, which, for single-use gloves, disrupts their integrity and can make them permeable and therefore ineffective. Single-use gloves should not be washed.
Wearing gloves during the epidemic has been shown to be counterproductive. The virus does not pass through healthy skin for which it is harmless and does not represent any danger to it. Worse still, since it is not washed, it can accumulate viruses and becomes a vector of cross-contamination. Handling with a bare hand and regularly washed with soap or hydroalcoholic gel is more manageable and therefore much more effective.
Currently, not all major organizations such as the WHO, for example, recommend the use of gloves to protect against Covid-19.
Conclusion
    The glove can be a fashion accessory but it is above all a personal protective equipment. It protects the hand against physical, chemical and microbiological attacks. But be careful, it meets a certain number of standards depending on the field in which it is used. Its use is also regulated. In all cases, it is of no interest and can even be harmful when used to protect against coronavirus.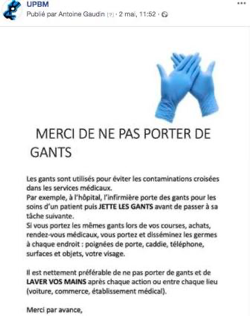 References
Stéfane Girard, Histoire et origine des gants d'homme (9/05/2017)
Les généralistes CSMF : une histoire d'amour à l'origine des gants chirurgicaux (septembre 2014)
Michel A. Germain, L'épopée des gants chirurgicaux, Stéphane Héas, http://journals.openedition.org/lectures/8412