In July 2018, the QUALITROPIQUE cluster announced the creation of the EPIDOM challenge, whose objective is to confront the best candidates to find innovative solutions dedicated to the protection and comfort of agricultural stakeholders in the French overseas departments (DOM).
This challenge was initiated by the Ministries of Agriculture and Overseas France, with the financial support of the French Biodiversity Agency, on the basis that current PPEs are not adapted to farmers working in hot and humid regions such as French overseas departments. QUALITROPIQUE, the tropical bio-economy cluster, has therefore been assigned the coordination of this challenge aimed at offering farmers in the French overseas departments innovative PPEs combining comfort and protection.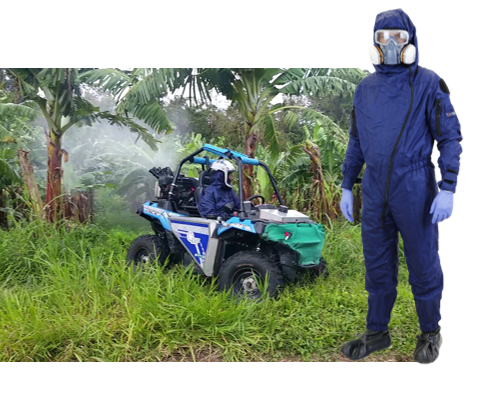 OUVRY has accepted this challenge by offering the innovative POLYAGRIDOM® protective suit based on an activated carbon-based filter technology. The suit has been selected by the jury to participate in the first test phase of the challenge and we are proud to announce that the POLYAGRIDOM® suit is now qualified for the EPIDOM challenge final. Around twenty POLYAGRIDOM® outfits will soon be delivered and tested in real conditions by farmers in Reunion Island and the West Indies, with EU certification if the tests prove successful.
A few words on the innovative POLYAGRIDOM® suit :
---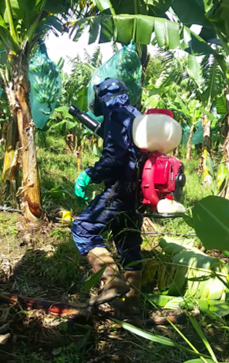 Adaptation of the POLYAGRI® suit, CE certified according to ISO 27065 in metropolitan France, it protects the wearer against all forms of liquid plant protection products as well as vapours and aerosols forms. Our activated carbon adsorption technology ensures a high level of protection while providing lightweight and comfortable fit in hot and humid overseas environments. The work of optimising the design, ergonomics, weight of materials and their durability will guarantee an optimum balance between protection, comfort and economic viability for farmers in the French overseas departments.
POLYAGRIDOM® offers a unique protection against all the risks associated with spraying methods in the French overseas departments, and will therefore be coated when applying treatments in cases where the user is not protected by collective protection (tractor cab equipped with activated carbon filter for example) in the open field, including with high relief but also in greenhouse spraying,  cabin, quad, backpack sprayer, etc… In all these scenarios, POLYAGRIDOM® protective suit will provide a global, durable and relevant response to the farmer who moves to the heart of the treatment area and faces:
Chronic exposure to vapours and projections of plant protection liquids
Physical activities in hot/humid environments
Long operations from 30 minutes to several hours.