OUVRY SAS participated for three days in the third edition of the Defense Innovation Fair (FID) that took place from November 25th to November 27th 2021 at the Champerret Space in Paris, France.
This event annually showcases the defense industries' innovation by gathering all the actors of this field. It is a rare occasion to gather the entire research, institutional, academic and industrial ecosystem.
The Minister of defense, Mrs Florence Parly, expressed the ambition of these stakeholders in her press conference by saying: "This fair is the showcase of the defense's innovation and of innovation, beyond just defense's. It is the showcase of the projects of those that dare everything and resign to nothing."

Within the "Assist-Support to fight" space, OUVRY exhibited its ASTRID MATURATION project: "DENOTER" from which resulted the creation of a dry versatile decontamination wipe DECPOL ABS ®.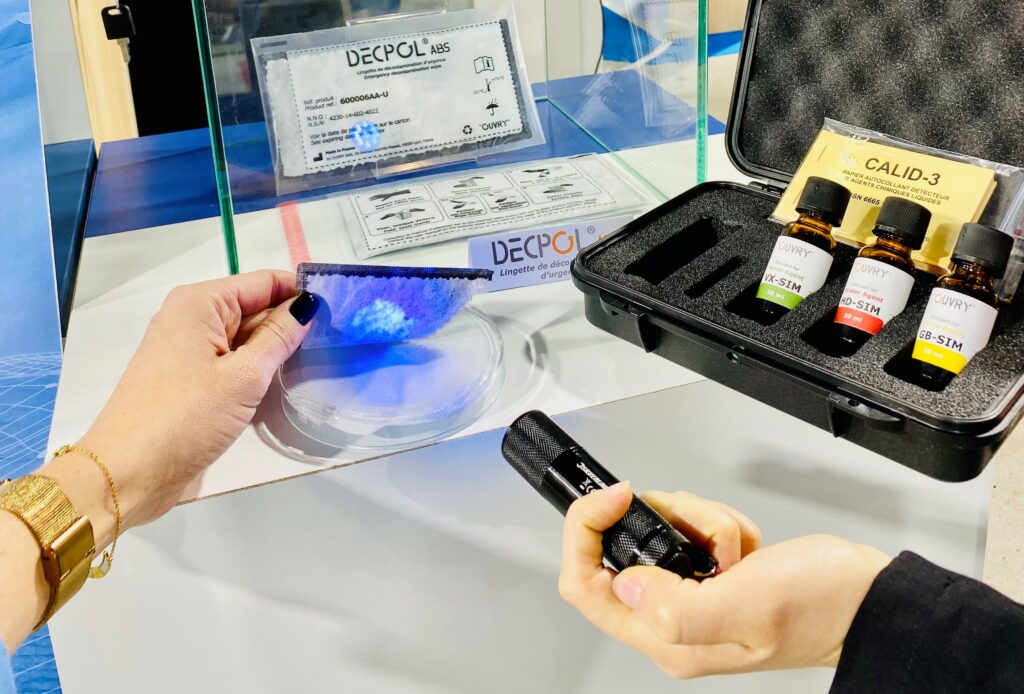 DECPOL ABS ® offers an excellent decontamination efficiency on all type of surfaces (glass, metal, polymers, textiles …) contaminated with chemical or biological agents. This wipe doe not cause any risk of ulterior contamination, whether it is by redeposition or by spreading, therefore confirming its ability to be used for immediate decontamination. Its structure also enables the containment of the agents thus helping with the following steps of the used wipe's disposal.
This wipe is the result of a work that started in 2018. It conveys the capacity of the company OUVRY to overcome the "desert crossing" which is a true challenge when it comes to innovation for an industrial.
DECPOL ABS ® illustrates the reactivity of French BITD (Defense's base of industrials and technology) PME (small and medium companies) with the support of the Defense Innovation Agency (AID).
Its development was made keeping in mind the environmental requirements set by the ISO 14001, from which OUVRY is certified: it has a storage lifespan of 10 years and a reusable packaging that can be used to isolate the used wipe in order to limit cross-contamination.
This year's Defense Innovation fair (FID) allowed us to introduce our project DENOTER and exchange on this subject with more than 70 contacts: from users to state representatives.