What is it about?
The disease is found in West and Central Africa. In one week, more than 120 cases have been diagnosed in at least 11 non-African countries in Europe: in the United Kingdom, Portugal, Spain, Sweden, Italy, as well as the United States, Canada and France. Indeed, a case was detected on Thursday, May 20 in Ile-de-France, in a 29-year-old man with no history of travel to a country where the virus is circulating. The patient is in isolation at home. The disease is generally mild, with most people recovering within a few weeks without treatment. Monkeypox is susceptible to the vaccines and treatments that have been developed for smallpox, as the viruses are very similar to each other.
The disease
The virus that causes monkeypox, an orthopoxvirus related to smallpox virus, was first detected in laboratory monkeys in 1958. It is thought to be transmitted from wild animals such as monkeys, prairie dogs and rodents to humans. There is also human-to-human transmission. In 1970, the first cases of the disease in humans were identified.
Symptoms are similar to those of influenza, but more specifically, there is an enlargement of the lymph nodes and characteristic lesions on the face, hands and feet.
The infection begins with a fever, often high and accompanied by headaches, aches and fatigue. After about two days, a vesicular rash appears, followed by the formation of scabs and their healing. Itching is frequent. The bubbles are concentrated on the face, the palms of the hands and the soles of the feet. The mucous membranes are also affected, in the mouth and genital area. The incubation period of the disease can be from 5 to 21 days. The fever phase lasts about one to three days. The disease is usually mild and usually heals spontaneously after two to three weeks.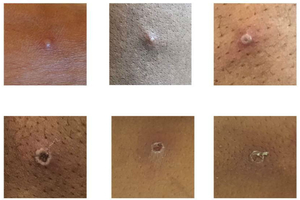 The monkeypox virus can be transmitted by prolonged direct contact with skin lesions or mucous membranes of a sick person, as well as by droplets (saliva, sneezes, sputters…) from people with oral lesions. However, unlike Covid-19, there is no transmission by aerosols. It is also possible to be contaminated by contact with the patient's environment (bedding, clothing, dishes, bath towels, etc.). It is therefore important for patients to remain isolated throughout the duration of the disease (until the last scabs disappear, usually 3 weeks).
Monkeypox differs from chickenpox because in chickenpox, the pimples appear in successive waves without affecting the palms or soles of the feet.
Genomic studies
They are not yet very developed, so it is not clear whether the strains in the current outbreaks are related to the African strains, or whether they are related to each other. Of the 5 cases in the United States (1 in New York, 1 in Florida, 2 in Utah, and 1 confirmed case in Massachusetts), the one in Massachusetts matches the one identified in Portugal and is the one circulating in West Africa. The 5 affected persons have traveled outside the United States, but not to Africa where the disease is endemic.
Could the current increase in disease be due to a sudden mutation that allowed the virus to be transmitted more easily to humans? This hypothesis seems unlikely since the monkeypox virus is a DNA virus that has much better mutation repair systems than RNA viruses like SARS-Cov-2.
The fact that the monkeypox virus has been detected in people with no apparent relationship to each other suggests that it may have spread silently, which is described as "very worrying" by poxvirus experts. If the clinical signs usually seen in monkeypox, such as the presence of skin lesions, no longer appear, giving way to asymptomatic infections, the virus would be very difficult to detect.
What are the concerns?
It is this rapid spread outside its endemic location that has scientists on high alert.
The fact that it is not as easily transmitted from one person to another and that it is related to the smallpox virus moderates fears because there are already treatments and vaccines to stop its spread. Thus, if scientists are worried, any new viral behavior being alarming, they are not panicked.
Who are the patients?
Another question is why almost all case clusters include men between the ages of 20 and 50, many of whom are gay, bisexual, or have had sex with men. It seems that sexual activity is a determining factor: perhaps the virus was accidentally introduced into a gay or bisexual community and continues to circulate there? But there is no evidence that the disease cannot spread outside these communities.
Containment strategies
Scientists have been keeping a close eye on monkeypox since the campaign to eradicate smallpox, its cousin, ended with the disappearance of the virus in 1980. With the disappearance of smallpox, smallpox vaccination was abandoned. This kept monkeypox at bay.
Each year that has passed since smallpox was eradicated has seen an increase in the population with weakened or no immunity to these viruses. People born before 1977 who were vaccinated against smallpox may still be partially protected, but those who were never vaccinated are not.
A few outbreaks have occurred. The Democratic Republic of the Congo, for example, has struggled with monkeypox for decades, and Nigeria has had a large outbreak, with about 500 suspected cases and more than 200 confirmed cases, since 2017, when the country reported its first case after more than 39 years without patients. The United States also reported an outbreak in 2003, when a shipment of rodents from Ghana spread the virus to pet prairie dogs in Illinois and infected more than 70 people.
As a precaution against bioterrorism, many countries maintain a stockpile of smallpox vaccine, as well as antiviral treatment that is considered highly effective against the virus.
For example, two FDA-approved smallpox vaccines can be used: ACAM 2000, a live attenuated vaccine, and Jynneos, a live non-replicating vaccine, which is safer especially for immunocompromised individuals. However, these treatments would probably not be widely deployed. Instead, health professionals would use a method called "ring vaccination" to contain the spread of the disease: vaccinating close contacts of people who have been infected with monkeypox virus to cut off any transmission pathways.
What to do in the presence of a patient?
The patient should wear a surgical mask, disinfect their hands and covered skin lesions.
The strategies for protecting and especially transporting contaminated patients are similar to those for COVID-19. The use of the Air'Protec system is appropriate for transporting patients to stop contamination from oral secretions. The caregiver must wear a well-fitted FFP2 mask, goggles, gloves in case of contact with lesions and wear an overblanket. Surfaces should be disinfected with 0.5% sodium hypochlorite.
The diagnosis is made by PCR test on a skin sample (biopsy or swab of pustules)
Conclusion
Monkeypox is known and well monitored. It is spreading outside its usual area of infection in Africa for reasons that remain unexplained. However, its protection by the smallpox vaccine and its sensitivity to treatment with teicovirimat mean that this disease does not inspire too much concern for the moment. The much awaited epidemiological studies will allow us to see more clearly the sudden evolution of the virus.
References
Nature. Monkeypox goes global : why scientists are on alert. 20 mai 2022
Coordination opérationnelle Risque épidémique et biologique : Infection au Monkeypox virus, 19 mai 2022.
"Le Progrès" du 24 mai 2022.